News
Archived from 2011
November 2011 -
Hi everyone! I spent much of October enjoying the fall color in North Carolina. And now I want to share a little of it with each of you!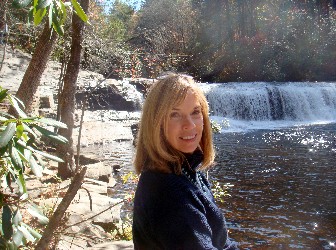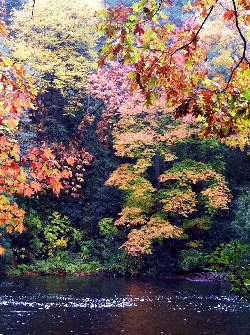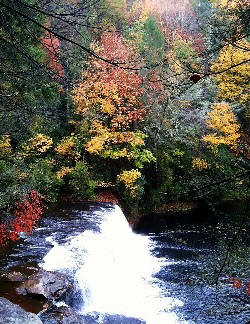 ---
September 2011 -
As the feeling of Fall starts to enter the air, I am reminded that it has been one year since I moved to North Carolina! I am blessed to have recently found a more permanent location to live here, and it is only 15 minutes away from 5 of the best waterfall trails in the area. My friend Shana visited me from Orlando in late August, and below is a photo taken at one of the falls.

Nature is a great place to slip inside of your meditation state and listen to messages specifically for you. This setting is one of my favorites for that activity. One of my recent messages is a good reminder for all of us; "It is more important than ever, to make the time for your inner work. We need to be able to reach you and without this opening it is hard to do so."

Enjoy whatever spot of nature is near you, and listen to whatever guidance or inspiration is waiting for you!

LOVE - Alice

PS: I welcome all of you to look me up when you are traveling in the Western North Carolina area. I would love to see each of you.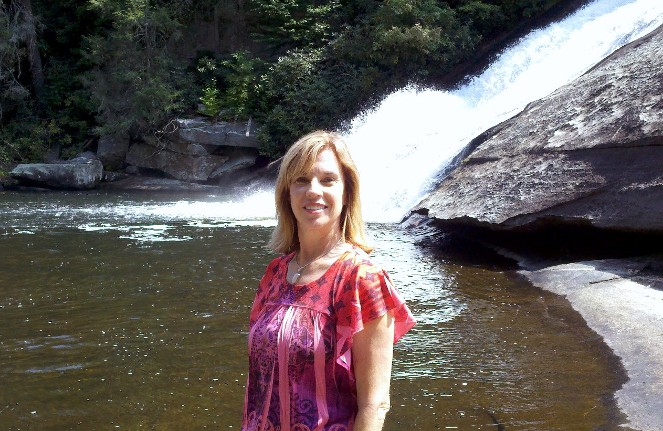 ---
Hi everyone! Just sharing the newest press release for Wellness Wisdom!
Medical Reports Confirm Breast Cancer Case Cured Through Cellular Level Healing: Author Alice McCall's Story
Stories abound about cancer and other dreaded diseases being cured through alternative therapies. But the question that must be asked is 'Where is the proof?' Alice McCall, author of 'Wellness Wisdom' offers the medical proof in the form of verified reports from medical doctors. Her journey from breast cancer diagnosis to health using Cellular Level Healing is detailed in 'Wellness Wisdom'.

The stories of cures for cancer through alternative therapies abound in our society, but most are relegated to the realm of fantasy fiction or dismissed as speculation. One story however is true: Alice McCall offers hard data, medical reports and proof that no evidence of breast cancer remains. She credits a process she terms 'Cellular Level Healing' for this astounding outcome. The story is detailed in her book, 'Wellness Wisdom'.

"The facts are simple," says McCall, " in 2007, I was diagnosed with breast cancer. The next day, I decided to embark on the path of self-healing without medical intervention, where I used my practice of cellular level healing. Today the cancer is gone. In 'Wellness Wisdom', I share all that I learned along my healing journey, offering hope and guidance to those that are afflicted with breast cancer or other diseases. 'Wellness Wisdom' gives the how to's of natural health and self-healing from the spiritual aspects, diet and nutrition, to holistic healthcare practices and protocols. It includes my personal revelations during the process."

'Wellness Wisdom' is a reference book for natural health and self-healing. It is an empowering and practical road map for self-healing that includes little known information on what really causes disease. The book serves as a guide to help one navigate the daily journey with health issues, environmental toxins, nagging fears, and spiritual destiny..

Medical proof of successful transformations of serious diseases are featured in 'Wellness Wisdom', including Multiple Sclerosis, Stage 3 Lymphoma, Breast Cancer, and more. Medical proof of successful transformations of serious diseases are featured in 'Wellness Wisdom', including Multiple Sclerosis, Stage 3 Lymphoma, Breast Cancer, and more.

Wellness Wisdom' also includes information regarding:
* Making the refrigerator and pantry the pharmacy for your health – with specific healing properties of everyday foods highlighted in an easy to use way..
* Effecting transformational changes within the cells of the body – with personal experiences from the author..
* Using spiritual drawing, journaling, and meditation to manifest health – simple no-cost ways to support mental, emotional, and physical well-being..
* Diet tips, recipes, and cooking ideas that support the body's health, culled from a variety of healthy diets including raw foods and macrobiotic approaches..
* Alternative health practices, remedies, and protocols that are available to those on the self-healing journey..

"Working at the cellular level of the body and the subconscious to affect health issues is truly the missing link to health, wellness, and healing," continues McCall. "Each of us are made with mind, body, emotions and spirit. They are all interconnected. To affect complete transformation of unwanted issues, all need to be addressed." 'Wellness Wisdom' is available at Amazon, Indie Bound, and WellnessWisdomHealing.com.

Alice McCall is available for media interviews and can be reached using the information below, or by email at alice@healingpath.info. More information is available at her website. Listen to audio of McCall taking about her health journey, cellular level healing, and Wellness Wisdom.

Alice McCall was educated at the University of New York (BS Psychology) and Suffolk University (MBA). She served for 4 years on the board of advisors for the Information Technology Service Marketing Association. She is certified in Hypnosis, a member of the International Association of Therapists (IACT), Reiki 1 & 2, and Quantum Touch.

Alice is a gifted spiritual teacher and healing facilitator. In her practice, Healing Path, she works successfully with serious health issues and diseases, such as Crohn's Disease, Fibromyalgia, Cancer, Lymphoma, OCD, Chronic Back Issues, and High Blood Pressure. Her unique approach of working with the mental, emotional, and spiritual connection at the cellular level sets her apart from most other holistic practitioners.

She is the creator of many CDs that feature healing meditations, inspirational messages, and energy work for the body and spirit. She has hosted a radio talk show, presented keynotes, lectures, workshops, and retreats, as well as being actively sought out for radio and television interviews..

Alice's work synthesizes many diverse viewpoints, utilizing her extensive experience as a Cellular Level Healing consultant, spiritual counselor, hypnotist, and many years as a corporate executive with such companies as Compaq Computer, Eastman Kodak, and BellSouth. She actively sponsors peace events, works with domestic violence centers, and supports seniors in transition..

Contact: Alice McCall
Email: alice@healingpath.info
Web: www.WellnessWisdomHealing.com

---
April marks a very special occasion: Keta's 13th birthday!
I also got a nice surprise; one of my articles was posted in the popular Oracle 20/20 magazine. You can see it by following this link; look for it on page 28.
Happy Birthday Keta!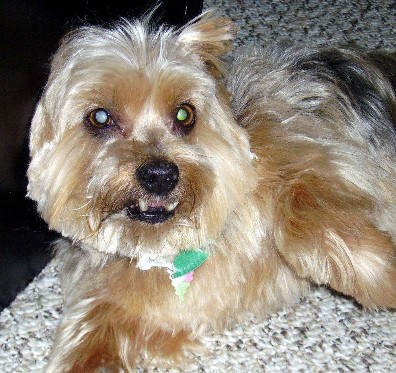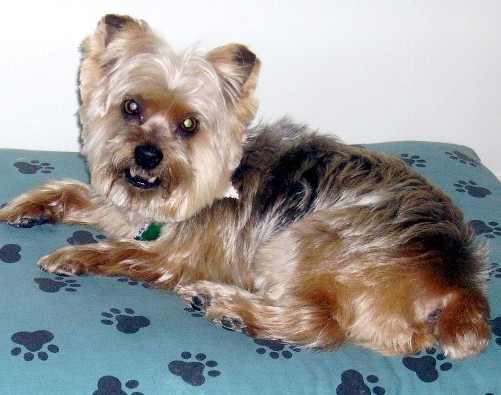 ---
Snow!
Hi everyone! So far 2011 been really busy, lots of events in the greater Western North Carolina area and lots of teleconferences.
I have enjoyed meeting so many new people, and continuing to support those along the Emerald Coast.
If you are like me, you are looking forward to Spring, and all the wonderful color and activity that it brings.
However, I have been enjoying the snow and wanted to share with you a few photos from one of the last snow storms. Enjoy!