Peace Meditations Along the Emerald Coast
I want to thank everyone that participated in the Peace Meditations. Thank you for taking time out of your life and joining a powerful global effort - with the simple, yet powerful goal of cultivating peace.

For those that weren't able to attend, know that the most important thing you can do is to grow peace in your life and hold onto peace from within. We can create peace for the world, one person at a time; one day a time. Further if you hold onto to peace, you will radiate it out, sharing the beautiful energy with the world. If you didn't read last month's Inspirational Thought, please take a moment to do so. Here is a direct link.

The photo to the right is of me, and Carolyn Reynolds's at her amazing studio space in Niceville.

The photo below is some of the lovely people that came to the meditation at Carolyn's studio.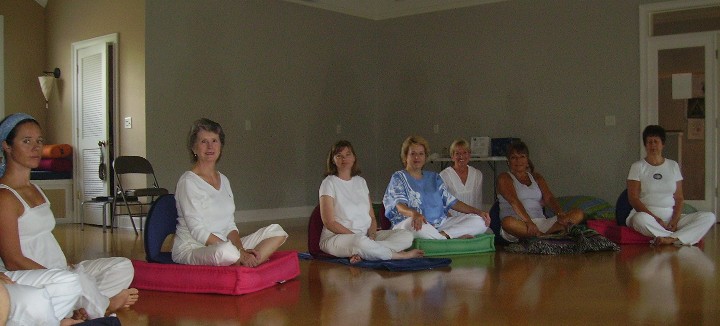 ---
Santa Rosa Beach meditation rescheduled due to rain!

After consideration I have decided to launch a Plan B because of Friday's Peace Meditation being canceled due to rain. My normal Tuesday Guided Mediation will be replaced with the free and open the public Peace Meditation.

Please spread the word that this Tuesday (9/25) at 6:30-7:30pm the Peace Mediation will be held at my home in Santa Rosa Beach. (Not the Highland House lawn.)

Please contact me if you are able to join, so I can arrange seating accordingly. Also, for more details and directions feel free to contact me.

Hope to have a full house!

Keep reading below for info on the event, and times of other Peace Mediations in the area.

Free and open to the public!

In Support of International Peace Day and the Global Mala Efforts
Join thousands who will be meditating for peace around the globe!

On Sept 21st-23rd, Healing Path presents "Peace Meditations" with Alice McCall throughout the Emerald Coast.

All of Ms. McCall's Peace Meditations are free, and open to the public. If someone is moved to make a donation, proceeds will go to the Heifer Project International. They work with communities to end hunger, poverty and care for the earth. Also 25% of my CD sales between Sept 21-23 will be donated to the Heifer Project.

In this important meditation, Alice McCall will guide you to release your memories of witnessing violence and negativity. She will then facilitate your work of visualizing and holding peace for our world.

Ms. McCall believes that if we each hold onto peace from within, it will cause a change in the world, and create a positive example for others.

Sept 21, 5pm - *A Highland House lawn in Santa Rosa Beach
Sept 22, 9:30am – The Yoga Room in Niceville
Sept 22, 1pm – Center for Healing, Learning, & Massage, in Shalimar
Sept 22, 4pm - The Way of Life Unity Center - Ft Walton Beach
Sept 23, 1pm – Unity of Pensacola

This is not a political or religious event.
For more information please visit any of the links below or contact me!
www.heifer.org
www.globalmala.org
www.internationaldayofpeace.org

* This is the only Peace Meditation that is taking place outside. Please join me in holding positive thoughts for good weather since a rain date in not scheduled. The Meditation will take place on the rear grassy lawn of A Highland House Bed and Breakfast located slightly east of 393 on 30-A. Bring your own chair, blanket, etc to sit comfortably.