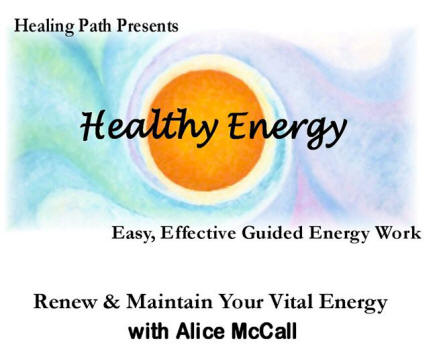 Experience energy work and guided healing meditation in Alice McCall's 'Healthy Energy' CD.

McCall created this CD to be part of an energy maintenance program. The first track, 'Daily Renewal,' aims at helping you remain grounded, centered, and balanced. The second track, 'Weekly Chakra Tuning,' focuses deeply on your chakras and keeping them in optimal condition.

'Daily Renewal' helps keep you centered even in the most stressful times. It guides the you through a series of brief energy exercises aimed at rebalancing the mind, body, emotions and spirit after a busy day – leaving you ready to take on the world.

'Weekly Chakra Tuning' is for those that have participated in deep chakra cleanses, and want to keep feeling like they did after participating in that intensive work. After all, chakras do impact our wellness!

Chakras are energy centers within your body. They are located deep in the center of your body between your tailbone and the crown of your head. Each is located near one of your glands. They push vital life force through your body to ensure vitality, health, and well-being. If you do not work on your chakras regularly you could experience: sluggishness, a lack of motivation, a sense of heaviness, a dulling of your mental abilities, a pattern of illness, or difficulty in accessing your spiritual self and higher purpose.

Your chakras constantly radiate and receive energy. When you hold onto negative thoughts or emotions, they are absorbed by your chakras. When this happens, your chakras stop functioning properly. Chakras are designed to be open and clear, allowing the energy of the Divine to flow freely through you. Buried negativity is dense and obstructs the flow within your chakras.

This CD will help keep your chakras clear and flowing!