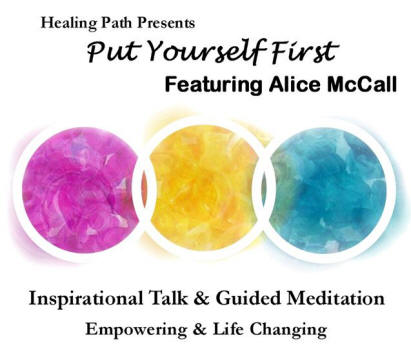 Put Yourself First includes an inspirational talk and a guided healing meditation.

The talk will explain why it is not selfish, but smart to make yourself a priority, and how to achieve this, even in your busy life. This CD is aimed at listeners that are tried of being people pleasers, tired of feeling like a there being walked over, and want to know how to break that pattern!

Alice McCall will walk you through this empowering talk to learn how to reclaim time for yourself and reclaim your voice. Take back your personal power, establish healthy boundaries, and put yourself first!

The guided meditation that follows will to help you discover unconscious roadblocks that are preventing you from putting yourself first and walk you through releasing them – creating new positive ways of being.

Meditation has long been used as a tool to balance the mind, body, spirit connection. For people that have busy, always thinking minds, meditation is an opportunity to slow down, and listen to your inner voice.

All of McCall's meditations feature a technique called toning. Using her voice, she holds and sometimes manipulates a note. Each sound corresponds with specific energies or chakras. Toning also helps to run energetic interference with the listener's active mind and thoughts; allowing them to stay centered and in the moment of the meditation.